CAIR-MI would like to award graduating seniors in high school with a scholarship based on the actions and legacy of Rosa Parks. Minimum requirements are one letter of recommendation and a 3.0 GPA. Please fill out the Rosa Parks Scholarship Application with an essay and letter of recommendation. Send the packet to info@cairmichigan.org  or by mail to: March 1, 2017.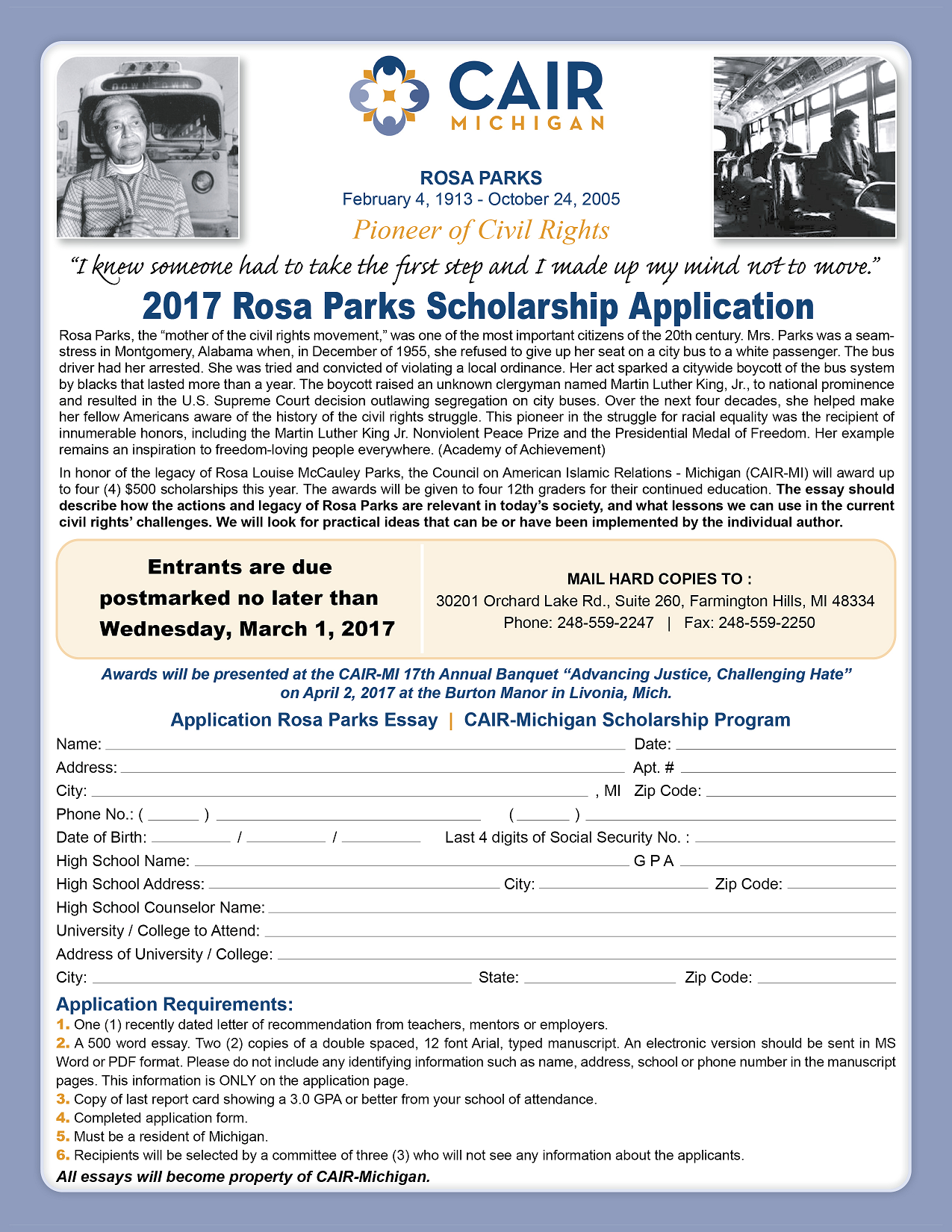 ​
CAIR-MI 17th Annual Banquet:
CAIR Michigan would like to invite you to attend the CAIR-MI 17th Annual Banquet "Advancing Justice, Challenging Hate," on Sunday, April 2, 2017 at the Burton Manor in Livonia, MI. Networking and registration begins at 1:00 p.m. The program starts at 2:00 p.m.
The keynote speaker is Ustadh Ubaydullah Evans, ALIM's first Scholar-in-Residence and Executive Director. ALIM promotes the empowered, healthy and religiously sound development of American Muslim individuals, families and society through the promotion of "Islamic literacy," Ustadh Ubaydullah studied foundational books of Islam under the private tutelage of local scholars while simultaneously pursuing a degree in journalism from Columbia. He has also studied at Chicagoland's Institute of Islamic Education (IIE), in Tarim, Yemen, and Al-Azhar University in Cairo, Egypt, where he is the first African-American to graduate from its Shari'a program. Ustadh Ubaydullah also instructs with the Ta'leef Collective and the Inner-City Muslim Action Network (IMAN).
Steve Spreitzer, President and CEO of the Michigan Roundtable, will emcee the dinner. 
Program:
1 p.m. Registration & Networking
1:30 p.m. Zuhr
2:00 p.m. Program followed by Dinner

Tickets - $50/adult, $30/student, $10/child, Table of 10 - $500
Babysitting is available for children 6 months-12 years-old.
Sponsorships /Ads contact the office at 248-559-2247 or email cairmichigan@gmail.com.